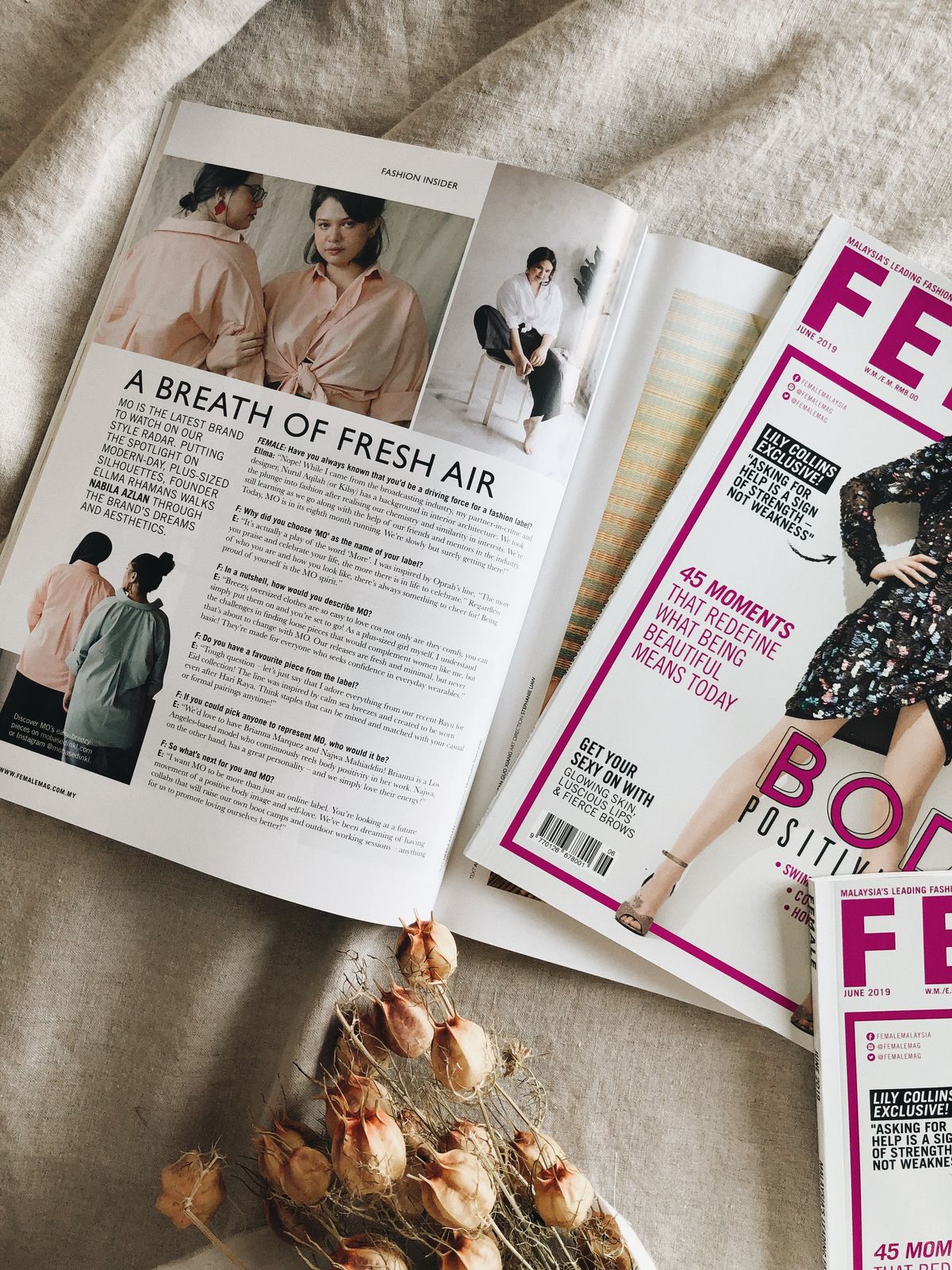 A big thank you to Female Magazine (Malaysia's Leading Fashion & Beauty Magazine) for featuring us in their June issue.
* Read our interview with Nabila Azlan from FEMALE *
FEMALE : Have you always known that you'd be a driving force for a fashion label?
Ellma : Nope! While i came from the broadcasting industry, my partner-in-crime and designer, Nurul Aqilah (or Kilsy) has a backgrouund in interior architecture. We took the plunge into fashion after realising our chemistry and similarity in interest. We're still learning as we go along with the help of our friends and mentors in the industry. Today, MO is in its eighth month running. We're slowly but surely getting there.
F : Why did you choose 'MO' as the name of your label"
E : It's actually a play of the word 'More'. I was inspired by Oprah's line, "The more you praise and celebrate your life, the more there is in life to celebrate. Regardless of who you are and how you look like, there's always something to cheer for! Being proud of yourself is the MO spirit.
F : In a nutshell, how would you describe MO?
E : Breezy, oversized clothes are so easy to love cos not only are they comfy, you can simply put them on and you're set to go! As a plus-sized girl myself, i understand the challenges in finding loose ppieces that would complement women like me, but that's about to change with MO. Our release are fresh and minimal, but never badic! They're made for everyone who seeks confidence in everyday wearables.
F : Do you have a favourite piece from the label?
E : Tough question - let's just say that i adore everything from our recent Bayu For Eid collection! The line was inspired by calm sea breezes and created to be worn even after Hari Raya. Think staples that can be mixed and matched with your casual or formal pairings anytime!
F : If you could pick anyone to represent MO, who would it be?
E : We'd love to have Brianna Marquez and Najwa Mahiaddin! Brianna is a Los Angeles-based model who continuously reels body positivity in her work. Najwa, on the other hand, has a great personality - and we simply love their energy!
F : So what's next for you and MO?
E : I want MO to be more than just an online label. You're looking at a future movement of a positive body image and self-love. We've been dreaming of having collabs that will raise our own boot camps and outdoor working sessions - anything for us to promote loving ourselves better!
Girls Support Girls!